I may earn $ on affiliate links in this post at no cost to you. Thanks for helping keep the cats fed. 
I love food! However, I was born and raised in the South. So, like most Southerners, I do not have a very refined palette. Most people around the world would call my favorite foods relatively bland. Don't get me wrong, I love flavorful food. I'm just limited in the flavors I like. That's why I say these recipes are for "real" people. Because picky eaters are the lowest common denominator so I think everyone is covered. The way I see it, you can always add extra spice or "kick", but it's really hard to take it away. It's kind of like my philosophy on temperature control… it's so much easier to add clothes than take them off, especially in public. Am I right, ladies? Those of you who get hot flashes will totally understand.

What is AIP Anyway?
AIP stands for AutoImmune Protocol, sometimes called AutoImmune Paleo. It's kind of like the Paleo diet but with more restrictions. Please don't stop reading now, there's a silver lining. The AIP diet is becoming so popular because it truly is life changing. If you have any autoimmune disease such as lupus, fibromyalgia, chronic fatigue syndrome, rheumatoid arthritis, Hashimoto's, EDS, etc. then you owe it to yourself to dig into this AIP thing and try it out. It really is worth the effort.

I don't know about you, but I'm super picky when it comes to food. Especially when it comes to breakfast foods. Don't even get me started on textures. I either have to have something sweet for breakfast or a savory dish must contain eggs. Otherwise, you might as well call it dinner. I could make a million dollars if I could invent the grain-free version of Cap'N Crunch! Right?

Where are my eggs and biscuits on this plan?
Since AIP (the AutoImmune Protocol diet) is so restrictive at first, it can be a bit daunting to figure out what to eat for breakfast. Especially if you're like me and equate breakfast to eggs or grains or both. I wish you could have seen me and my husband scrounging around the kitchen figuring out what we could eat (because we hadn't planned properly). Out of everything in my house, the only thing I could consider breakfast-adjacent was bone broth. Don't ask me why. It made sense at the time. So, that very first morning, I had a hot steamy cup of bone broth and a whole orange. Yum! Needless to say, a major grocery shopping trip was in order.

AIP meal planning is not easy.
Slowly, we started to get it together. I had spent a whole week already pinning recipes to Pinterest. So, I had an idea of what I wanted to try. But figuring out the grocery list was a whole other issue entirely. After winging it the first couple of days and practically starving, I stumbled upon Real Plans. That really helped with getting a shopping list together from the recipes on my meal plan. You should really check it out. It's a total life saver.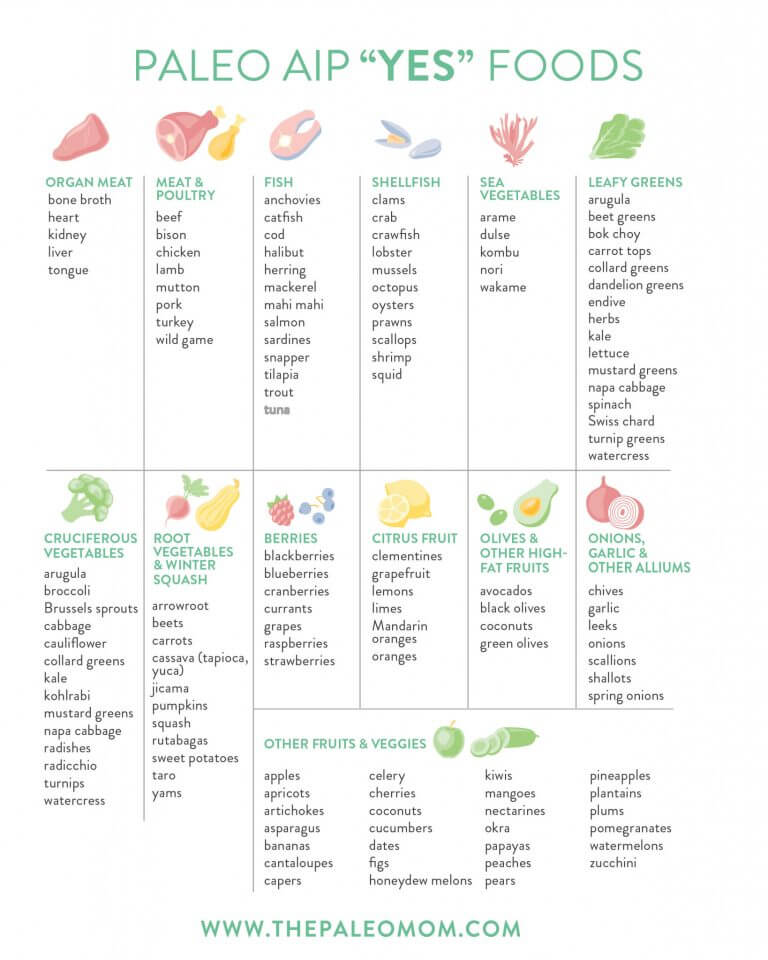 Since life isn't all about breakfast (although I could eat breakfast food all the time), check out my post on AIP Basics. Once you get done there, I highly encourage you to check out thepaleomom.com and download her AIP Quickstart Guide. It's not too long and really well illustrated. My favorite parts about it are the graphics that show what to keep in your pantry and fridge.

Now, back to grain-free breakfasts.
Before you start to panic about the no eggs part of this plan, I want to assure you that whenever you're done with the elimination phase, you can slowly start adding things back in and eggs are at the top of the reintroduction list. Whew!

Isn't it funny how we can eat the same cereal every day for the rest of our lives, but when on a diet, we need variety? Even though this isn't the four-letter version of "diet" that creates so much anxiety and dread, it's still a lifestyle change and variety is important to staying on track. Our goal here is minimizing inflammation and autoimmune symptoms, not weight loss. Although I did drop a lot of weight when I lost the terrible inflammation. You can read more about this in my story.

There's too much coconut!
So many recipes out there rely heavily on coconut. Since I'm weird about textures and flavors, I steer clear of coconut-dependent recipes. But if you like coconut, I'm sure there are some other great recipes you can add to your breakfast arsenal.
When it comes to coconut for me, I like coconut cream but not coconut milk (although it's ok sometimes in sweet dishes). Coconut sugar and flour are good, but not flaked or shredded coconut. So wherever you see avocado oil in my recipes, I've probably substituted it from the original recipe which had coconut oil. This makes a slight difference in cookies. Mine come out softer than I imagine the coconut oil ones would, but I happen to like them that way. They feel indulgent and bready.
You'll see a lot of AIP recipes that call for coconut butter which is pretty much pulverized coconut. In the cases where the original recipe called for coconut butter, I substituted palm shortening but had to tweak the quantities because it's not exactly a 1:1 trade. Coconut cream and coconut sugar make a really great caramel sauce that I could eat by the bowlful (see the apple crumble recipe). And finally on the subject of coconut, I like toasted coconut flakes used sparingly as a topping.
I did the trial and error part for you.
If you're a picky eater starting your AIP journey, I personally think you're pretty lucky to be reading this right now. I tested a lot of B A D recipes! The unicorn of grain-free breakfasts for Southerners in particular is biscuits. Sorry to report that I haven't found a good biscuit recipe yet. If y'all find one, pass it on to me. Every recipe we've tried that was somewhat biscuit or bread related turned out like a chewy rock, if you can imagine such a thing. Yuck! There are however a few recipes that are like cobblers and cookies which really helped me feel ok about not having biscuits or toast. It's ok. Don't cry. It's all good, I promise.

Most of these recipes originated on other blogs which I modified for my sensitive tastes. I provide a link to the original recipe where applicable if you'd rather try that one. I recommend trying a few of these at most in one week and allowing yourself leftovers. Trying a different recipe every day is just too much and you'll burn yourself out pretty quickly. Here's to good eats!

Breakfast Recipes
I hope you love these AIP grain-free breakfasts as much as I do. Please comment and let me know your favorites or questions.

Gentle hugs,
I may earn $ on affiliate links in this post at no cost to you. Thanks for helping keep the cats fed.